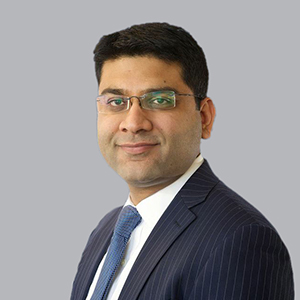 Hrishikesh (HK) Gupta Principal
---
HK is a Principal, Analyst and Portfolio Manager on the SGA Investment Committee. HK has been with the firm since 2014.
He has been co-manager of SGA's Emerging Markets Growth Portfolio since its inception in 2014 and of SGA's Global Mid-Cap Growth Portfolio since its inception in 2018. In 2021, he joined the portfolio management team of SGA's flagship Global Growth Portfolio as co-manager. In 2022, he joined the portfolio management team for SGA's US Large Cap Growth Portfolio.
HK worked at three companies that have featured on our Qualified Company List (Qualcomm, American Express and Amazon) before joining the investment industry.
Prior to joining SGA, HK was a Senior Analyst at MDR Capital Management, a long / short equity hedge fund, and an Associate Managing Director at Iridian Asset Management. HK followed the Technology, Telecommunications, Industrials, Basic Commodity and Refiners sectors while at MDR and Iridian. He also worked as an Investment Banking Associate at Bank of America Merrill Lynch, and advised industrials and financials' clients on private placements and M&A. As noted, HK spent three years in industry as a Product and Program Manager at Amazon.com and, as part of their strategic executive division, led the launch of Amazon's Japanese and German merchant platforms.
HK holds a Bachelor's degree in Computer Science from Indian Institute of Technology (IIT) Bombay, an MS in Computer Science from the University of California, San Diego and an MBA with specialization in Corporate Finance from the Stern School of Business at NYU.
HK was born, raised and educated in India and is fluent in Hindi.