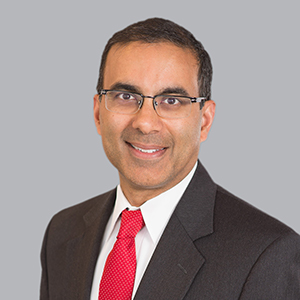 Kishore Rao Principal
---
Kishore is a Principal, Analyst, and Portfolio Manager on the SGA Investment Committee. Kishore has been with the firm since 2004 and sits on SGA's Executive Committee.
He has been co-manager of SGA's Emerging Markets Growth Portfolio since its inception in 2014 and of SGA's Global Mid-Cap Growth Portfolio since its inception in 2018. In 2020, he joined the portfolio management team of SGA's flagship US Large Cap Growth Portfolio as co-manager. In 2022, he joined the portfolio management teams for SGA's Global Growth and International Growth Portfolios.
Historically, Kishore oversaw SGA's analysts' internship program where we mentor promising analyst candidates who are completing their Master's degrees at leading universities.
Prior to joining SGA, Kishore was a member of the investment team at Trident Capital, a venture capital firm managing a portfolio of software, technology, and business service companies. He was a Founder and General Manager of the Street Events division of CCBN before it was sold to Thomson Reuters. Previously, Kishore was an Investment Analyst at Tiger Management following healthcare services and software companies and an Analyst at Wellington Management following semiconductor equipment.
Kishore has a B.S. in Industrial Management from Carnegie Mellon University and an MBA from Harvard Business School.